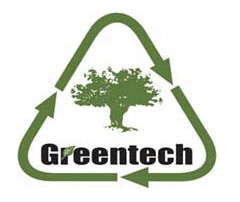 Greentech Ltd. Novi Sad, established in 2005, is Serbian post-consumer PET packaging recycling leader. The company has been continually developing its production technologies and expanding suppliers' network since its establishment.

The Head-Office of Greentech is located in Novi Sad, and the factory is located in Mladenovo, near Bačka Palanka.

The processing capacity is 10,000 tons of waste PET packaging per year. Hot washed PET flakes are produced utilizing Sorema, Tomra, Buhler and Pellenc modern technology of recycling waste PET bottles. By finalizing the process, our clients produce polyester fiber, polyester tape, PET film/sheet and rPET granulate from hot-washed flakes.

Polyester (PET) fiber is the most common product of plastic recycling. It is widely used in the automotive and hygiene industries, as well as in the furniture, textile and construction industries.

Due to its exceptional technical characteristics, polyester (PET) tape is used as a replacement for steel tape in packaging.

PET fil/sheet is a product that is increasingly used in the production of food packaging and other packaging products.

rPET granulate is used as a substitute for original PET granulate in the production of PET preforms for the needs of the bottling industry.