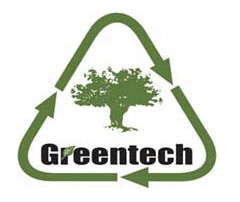 Greentech Ltd. Novi Sad, established in 2005, is Serbian post-consumer PET packaging recycling leader. The company employs 50, and has been continually developing its production technologies and expanding suppliers' network since its establishment. Greentech collecting network comprises of over 100 public and private companies covering 80% of the Serbian territory.

Our vision is focused solely on meeting the requirements of modern-day living as well as help securing both healthier and cleaner environment for the future generations. Applying concept of living in harmony with nature opens the way for efficient economic activity - plastics recycling.

Greentech Ltd. Novi Sad is a member of Green Group, a South-Eastern Europe recycling leader, with factories in Romania, Serbia and Macedonia, and branch offices in Greece and Germany. Greentech and Greenfiber (Green Group members) facilities are engaged in plastic recycling, whilst the Greenweee and Greenlamp operate in the field of electrical/electronic waste, light bulbs/tubes and batteries recycling, strictly adhering to the stringent European Union standards.

Greentech operates in Romania since 2002, in Serbia since 2005, and in Macedonia since 2007. Group's facilities annually recycle 50,000 tons of post-consumer PET packaging as well as 10,000 tons of other post-consumer plastics.

In April 2012 European Bank for Reconstruction & Development (EBRD) recognized the success and dedication of a team of professionals setting standards in the recycling industry in the region by becoming Green Group co-owner, acquiring a 25% stake, thus enabling new investment cycle within the Group.

Waste recycling represents the preservation solution for the ever-declining natural resources. Environmental pollution, with post-consumer plastics being one of its larger contributors, goes hand in hand with depletion of raw material resources. Committing to post-consumer PET packaging recycling establishes our goal at being firm contributor to a cleaner environment and at the same time developing a profitable business.




Greentech puts a lot of effort into public education, with particular emphasizes on children and youngsters education regarding the plastic recycling importance in the environmental preservation. We organize lectures and educational workshops in kindergartens, primary and secondary schools, participate in public events presenting post-consumer PET packaging recycling products and explaining multiple importance of recycling and household waste primary selection.

Green Group is going to materialize EUR 5mn investment in the new Greentech facilities in Mladenovo (Backa Palanka municipality) during first half of 2013. Facility connection to Mladenovo village sewerage network enabled further improvements to existing production process. Planned investment includes construction of waste water treatment facility, new production facility, hot PET bottles washing line installation and the first Serbian "bottle to bottle" facility (per Vacurema technology). Facility will enable recycling post-consumer PET bottles into the final product - RPET pellets. The latter is to be reused for the PET preforms production, substituting thus far exclusively imported PET virgin granules. Utilizing domestic raw materials instead of imported shall in turn help reducing new PET bottles production cost as well as impact environmental protection in Serbia.

Greentech's new facilities will help create 50 new jobs in the Serbian recycling industry applying the latest plastics recycling technology as per European standards.