SERBIAN ASSOCIATION OF PACKAGING WASTE RECYCLERS MADE REQUEST TO RELEVANT MINISTRY TO AMEND THE LAW ON PACKAGING AND PACKAGING WASTE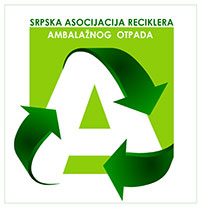 Serbian association of packaging waste recyclers has been established in May of 2015, aimed at both representing and realizing interests of Recyclers and packaging waste collectors in Serbia.Association stands committed to upgrade the packaging waste management system, improve relevant legislation defining the collection & recycling field, andimprove inspection supervision and control of polluters as well as all participants in the waste collecting and recyclinglogistics chain. It's been founded by leading Serbian packaging waste recyclers:Cardboard factory Umka, Paper factory Belgrade, plastics recycling companies- Greentech Novi Sad and Alwag Gajdobra, To-ma Pallet Plus Irig and Serbian glass recycling factory Grejac.

Serbian association of packaging waste recyclershas launchedthe Law on packagingand packaging wasteamending initiative, acting in belief that suggested amendments to the current law could contribute to significant raise of the existing system of packaging waste managementeffectiveness. Association'sattitude is that it is necessary to define more stringent operatingcriteria for the packaging waste System Operatorsas well as to secure higher and more transparent investments in both packaging waste collection infrastructure and recycling.


SARAO expectsfor the Ministry of Agriculture and Environmental Protection to ASAP form a working group thatshall in turn, in consultation with all the relevant stakeholders, prepare a Law on packaging and packaging wasteamending proposal. The adoption of this Law is to contribute to further EU directives implementation and to organizesecondary raw materialsmarket, which would in turn help increase collected and recycled packaging waste in Serbia.