GREENTECH SAD CONTINUED INVESTMENTS AIMING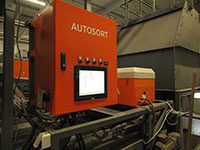 Greentech doo Novi Sad Greentech Ltd. Novi Sad continued investments aiming to further expand and improve production capacities within PET packaging recycling facility in Mladenovo near Backa Palanka.
End of August saw the installation completion for optical sorting and conveyor belt transportation systems, securing production process automation and resulting in faster and better PET packaging color quality sorting. Installed systems further improve removal of PVC packaging, PET-G and other types of unwanted packaging waste creating issues inside PET bottles recycling stream. Deployed technology facilitates production of PET flakes (A grade), intended for PET fiber and PET strapping tape (strap) production, with entire production cycle being further completed within the parent Green Group facilities.
New technology introduction helps Greentech achieve higher productivity, increase sorted PET packaging quantity and produce better end product quality. New equipment installation increases sorting production capacity to 2 tons/hour.
Optical sorting machine was commissioned from the most renowned producer of this type of equipment, Tomra Sorting Solutions from Norway, with actual financing completed from the Company ongoing operations.