News
GREENTECH AT BACKA PALANKA JOB FAIR

National Employment Service organized spring Job Fair was held today in "Tikvara" Sports Center in Backa Palanka. Greentech's booth attracted great interest of Job Fair visitors for the offered job positions.

Greentech is currently implementing planned investment in existing production processes improvements (waste water treatment facility, new production facility, hot PET bottles washing line installation and the first Serbian "bottle to bottle" facility (per Vacurema technology)) that would allow 50 new jobs creation in the Serbian recycling industry, applying the latest plastics recycling technology in accordance with European standards.
Read more...
EARTH DAY MARKED BY "DO YOU KNOW YOUR CITY" ACTIVITY

Celebrating their 60-year anniversary of working with children and youngsters in the coming year, scouts from Novi Sad "Ivo Lola Ribar" group, organized "Do you know your city" activity on Sunday, April 21, 2013. This traditional activity aimed at introducing the city of Novi Sad culture, history and life to school children was used this year to mark Earth Day (April 22) in a funny and educational way.

Pupils were provided with lunch boxes and bottled water, courtesy of Minaqua - the event sponsor. One of their tasks was to submit PET bottles at the Greentech stand in the Danube Park at the end of the race. Race participants who submitted their used PET bottles to recycling received a symbolic gift – Greentech's educational comic book "The Return". After the final environmental test, pupils were tasked to make one of the Earth's endangered animal species out of used cardboard and PET fibers.
Read more...
COUNCIL FOR ECOLOGY, SUSTAINABLE DEVELOPMENT, QUALITY AND EDUCATION CENTER CONSTITUTIVE SESSION HELD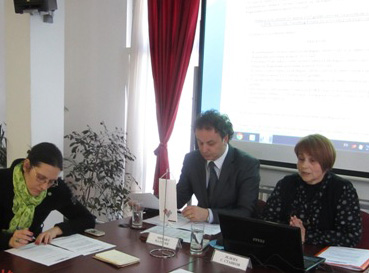 Council for Ecology, Sustainable Development, Quality and Education Center constitutive session was held in the Regional Chamber of Commerce in Novi Sad, on March 19, 2013.

 The Center's Council was formed in order to ensure technical and organizational support, labor enhancement as well as to provide assistance to Chamber members. The Council comprises of 15 members – the representatives of South Bačka District area based successful private and public businesses, city and provincial administration, scientific and educational agencies and institutions.

Mr. Mihail Mateski, general manager of Greentech Ltd. Novi Sad, was appointed as Center's Council Coordinator.

 In order to discuss issues of interest to certain fields of economy and achieving more direct contact with companies, authorities, institutions, better problem understanding and propose more specific and efficient solutions, the Council for Ecology, Sustainable Development, Quality and Education Center has adopted the Decision on the following two groups formation:

Read more...
AWARD COMPETITION PARTICIPATION CALL
"MY PLANET - MY PROBLEM"

Award competition was announced within the "Your planet - your problem" campaign, with primary and secondary school pupils as well as college students residing and/or studying in city of Novi Sad and municipality of Backa Palanka having the right to participate.
The competition is opened until May 20, 2013, with the most successful entrants exhibition and award ceremony scheduled for June 5, the World Environment Day. Three most successful authors in each category will be awarded MP4 players, web cameras and sports bags.

Read more...
"GREEN OSCAR" AWARD FOR GREENTECH
Minister of Energy, Development and Environmental protection, Ms. Zorana Mihajlovic, granted the "Green Oscar" award to Greentech Ltd. general manager, Mr. Mihail Mateski, for the contribution in promoting PET waste packaging collection and recycling at the III International Eco Expo & Conference 2013 opening ceremony.
 
"Green Oscar" awards dedicated for the companies and individuals demonstrating importance of Environmental protection investing are granted to thermal power plant "Nikola Tesla", Faculty of Technology and Metallurgy in Belgrade, "Akvastatin", "Ekostar pak", the "Natura priroda resursi" and "Keseko".

Eco Expo & Conference 2013 organizers have granted the "Environmental Protection Ambassador" award to the:
  - Minister Ms. Zorana Mihajlović,
  - Mr. Goran Trivan, Secretary of the City of Belgrade Environmental protection Secretariat,
  - Mr. Ninoslav Milenković, manager of Jugoimpeks E-reciklaža,
  - Mr. Žarko Tarić, the Royal African Society goodwill ambassador, and
  - Mr. Sadula Spahiloglu, chairman of the Business Council of South East Europe and Turkey (DEIK).

<< Start < Prev 1 2 3 4 5

6

7 8 9 10 Next > End >>


Page 6 of 15