News
»YOUR PLANET – YOUR PROBLEM« COMPETITION AWARDS GRANTED
The winners of "Your Planet - Your Problem" competition conducted within the "Your planet - your problem" campaign were granted the awards at the Greentech Ltd headquarters in Novi Sad. The contest participants were the primary and secondary school pupils residing and/or studying in city of Novi Sad and municipality of Backa Palanka.
Artwork category first prize winning authors are the following three seventh grade schoolgirls from Backa Palanka "Desanka Maksimovic" primary school: Anđela Vukasinovic, Bojana Milutinovic, and Jovana Jovic. Category runner-up is Tamara Grmusa, a first grade pupil from "Sveti Sava" primary school, with third prize being awarded to Nina Cheka, third grader from Backa Palanka "Vuk Karadzic" elementary school.
Read more...
SIEPA AGENCY SIGNED A CONTRACT WITH GREENTECH LTD NOVI SAD GRANTING NON-RECOURSE DIRECT INVESTMENTS FUNDING
On Friday, June 21, 2013 representatives of the Serbian Investment and Export Promotion Agency (SIEPA) and Backa Palanka municipality deputy President, Mr. Bojan Radman, visited Greentech's Mladenovo recycling facility. The contract was signed during the occasion, granting Greentech Ltd Novi Sad non-recourse direct investments funding for the new production facilities construction and new PET packaging processing lines installation within the Mladenovo recycling facility.
 Planned investment includes construction of waste water treatment facility, hot PET bottles washing line installation and the first Serbian "bottle to bottle" facility (per state of the art Vacurema technology) to produce RPET granules.
Read more...
»ART ECO MARKET« RECYCLING PROMOTION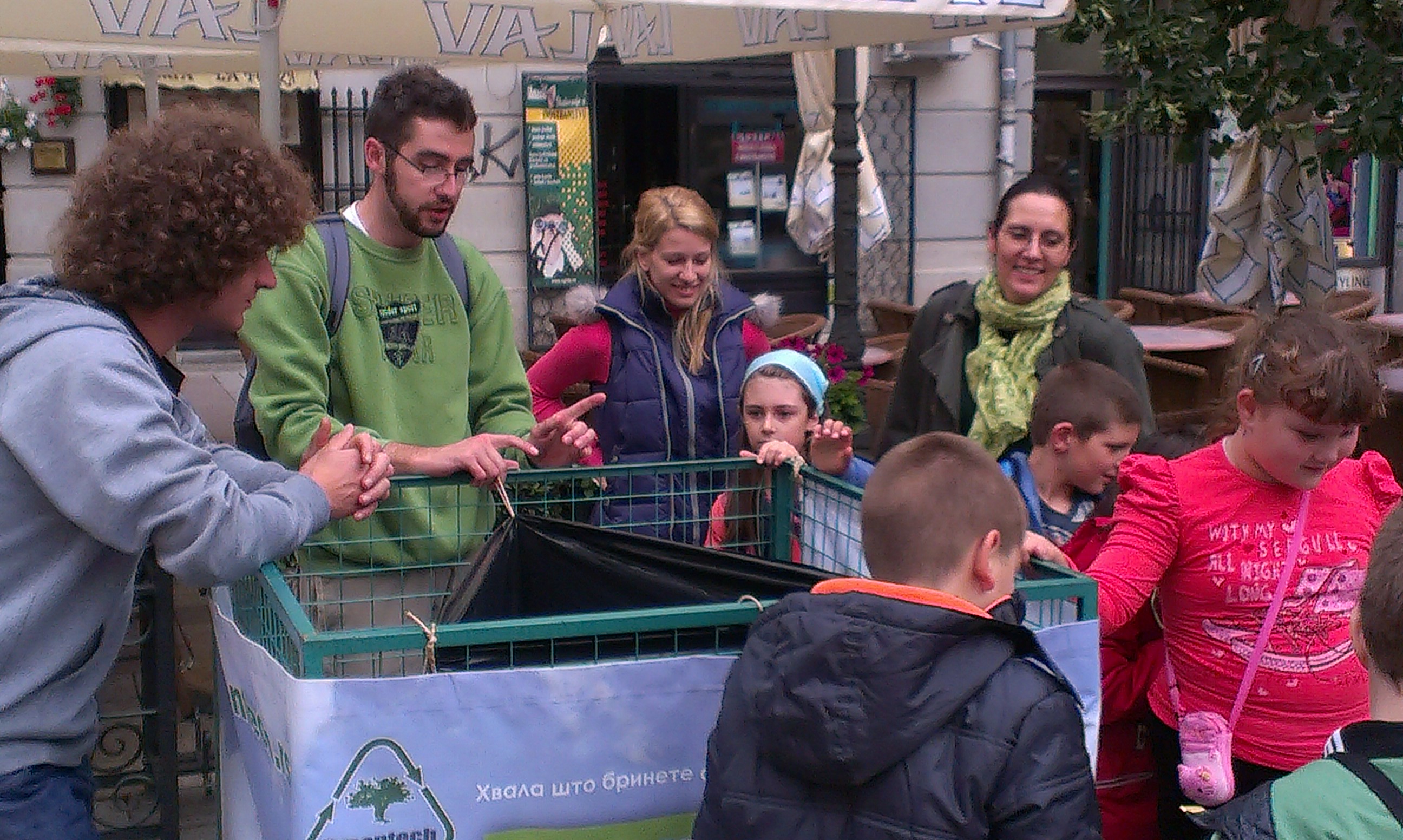 Greentech Ltd Novi Sad participated at Novi Sad Catholic churchyard (Katolička porta) held Art Eco Market event from May 31 until June 5, 2013 and organized by the Eco Concept Association from Novi Sad.
Despite the poor weather conditions number of Novi Sad citizens had the opportunity to learn about the importance of energy and water saving, waste recycling and environmental habits fostering during the event's 6-day duration. Novi Sad's Cultural Center Gallery was turned into "Up-cycling room" for the occasion, staging the unique recycling products exhibition – used aluminum cans made dress (designed by Ms. Tatjana Tatalović), used wooden pallets made bed, cardboard made armchair, etc.
Read more...
GREENTECH'S "YOUR PLANET – YOUR PROBLEM" CAMPAIGN COMPLETED
Greentech Ltd. Novi Sad, plastic recycling company, has during the past three months conducted "Your Planet – Your Problem" educational campaign aimed at raising the environmental awareness of children in Backa Palanka municipality primary schools. The total of 20 creative workshops were organized for elementary schools' lower grade pupils as well as lectures for the older pupils on recycling importance for environmental protection.Educational campaign was attended by some 650 pupils from all three Backa Palanka elementary schools as well as pupils from Mladenovo, Obrovac and Karadjordjevo elementary schools. In their creative workshops second and third grade pupils made bird feeders out of post-consumer PET bottles. Feeders were than put in schoolyards and their household backyards, thus contributing to post-consumer packaging becoming a new useful product for nature, plant and animal species preservation.
Read more...
PUPILS FROM NOVI SAD "ZARKO ZRENJANIN" ELEMENTARY SCHOOL VISITED MLADENOVO RECYCLING FACILITY

Company Greentech Ltd. Novi Sad organized field trip for the II/5 class of the Novi Sad "Zarko Zrenjanin" elementary school as a part of "Help Planet Recycle" educational campaign. Children visited the Greentech's recycling facility in Mladenovo, as well as the Special Nature Reserve "Kаrаđоrđеvо" and horse farm within the military facility under the same name.

Short lecture on recycling and its environmental protection importance was provided to children during their bus trip to Mladenovo. They were than able to see the Greentech's Mladenovo recycling facility and the post-consumer PET packaging recycling process. Children were especially thrilled with PET flakes (being recycling semi-product used for the following products fabrication: PET fiber, polyester (PET) film, PET packaging tape and R-PET pellets for new preforms/bottles production). It was so interesting for kids to navigate through post-consumer PET packaging storing area with bales waiting to be recycled, looking like a big colorful maze. Forklift carrying post-consumer PET packaging bales, truck loading, noisy plastics grinding mill – all presenting new and colorful experience for children from Novi Sad.
Read more...
<< Start < Prev 1 2 3 4

5

6 7 8 9 10 Next > End >>


Page 5 of 15