News
GREENTECH NOMINATED FOR "2012 BLIC ENTREPRENEUR" AWARD
Daily newspaper "Blic" elects the best Serbian entrepreneur for the sixth year in a row. Societe Generale bank is their partner for the current year, rewarding "2012 BLIC ENTREPRENEUR" with 20.000 Euros.

Criteria for the Jury to elect "2012 BLIC ENTREPRENEUR" are: profitability, productivity, liquidity, export potential, total number of employees and new employees in 2012, technological innovation and orientation towards environmental protection and ​​contributions to the local community development. As well as during all of the previous years, the goal of the "Blic Entrepreneur" award is to promote, strengthen and support the entrepreneurialship in Serbia.

Read more...
GREENTECH'S "YOUR PLANET - YOUR PROBLEM" CAMPAIGN

It is within the Greentech's "Your planet - your problem" campaign ("Tvoja planeta – tvoj problem") that almost 3.000 elementary school pupils from Novi Sad received education regarding the importance of recycling and environmental protection via creative workshops, peer education and campaign custom-made comic book "Return" ("Povratak"), while special containers for the primary PET packaging waste selection were donated to eight project involved elementary schools.

In collaboration with the Recycle Green Association, the Greentech has resumed implementation of "Help Planet Recycle" project in eight primary schools in Novi Sad, encompassing the campaign within to raise awareness of children and young people regarding the personal commitment importance in order to protect the environment under the "Your planet-your problem" slogan. City of Novi Sad is the institutional sponsor of the project, with media sponsors being Radio-televizija Vojvodina, Radio 021 and the "Eko-list" ecological magazine.

Read more...
"Waste Management and the possibility of turning waste into energy" Seminar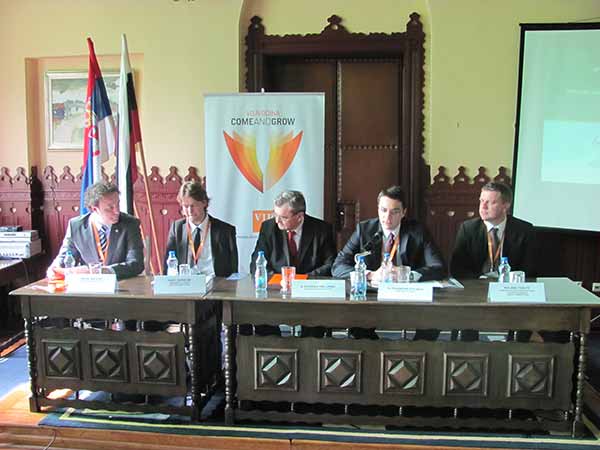 Mr. Mihail Mateski, general manager of Greentech Ltd, participated as a lecturer at the "Waste Management and the possibility of turning waste into energy" Seminar, held at Apatin Municipal Assembly grand hall on February 28, 2013 and organized by Vojvodina Investment Promotion (VIP). The aim of the seminar was to present projects, experiences and challenges encountered by the existing foreign investors, as well as to educate the local governments' representatives to form comprehensive scenario of the possible challenges during the project implementation whilst communicating with potential investors.

Keynote and welcome note were delivered by Mr. Zivorad Smiljanic, Apatin Municipality President and Mr. Aleksandar Stojkov, VIP director.

"It is estimated that it will be necessary to invest round about EUR900mn in Serbia by 2019 in order to completely solve the waste management problem in a sustainable way and in accordance with the National Strategy. The Serbian government will not be able to secure financing alone, without the involvement of domestic and foreign private sector" said Alexandar Stojkov, VIP Fund director. He said that there are several ways in for the foreign companies to get involved:

Read more...
BAČKA PALANKA MUNICIPALITY AND GREENTECH SIGNED THE LONG-TERM COOPERATION PROTOCOL TO PROMOTE RECYCLING

President of the Bačka Palanka municipality, Mr. Bojan Radman and Mr. Mihail Mateski, general manager of Greentech Ltd, plastic recycling company, signed a long-term cooperation protocol to promote household waste primary selection and recycling in the Bačka Palanka municipality. Greentech will continuously conduct educational campaigns aimed at raising environmental awareness of the population of Bačka Palanka municipality during next three years, with Municipality providing institutional support for these activities. The signing of this Protocol officially launched the "Help Planet Recycle" ("Planeti pomaži u reciklaži") project, encompassing educational workshops on environmental protection being conducted in primary and secondary schools of the Bačka Palanka municipality, hosting approximately 1.500 pupils as integral part thereof.
Greentech will, as a part of the Campaign, donate dedicated containers for PET packaging waste disposal to Project involved schools, enabling pupils to dispose of packaging waste within their school thus funneling it to recycling.
Read more...
GREENTECH AT THE "PLANETIZE! RECYCLE" FESTIVAL

Greentech participated at the Green Initiative organized "Planetize! Recycle" ("Oplaneti se! Recikliraj") environmental festival held in Studio M in Novi Sad on Thursday, December 31. Green Initiative organized the festival in collaboration with the Institute for Sustainable Communities (ISC) and with financial backing from the U.S. Agency for International Development (USAID). Festival visitors had the opportunity to see the recycled steel cube with light effects, participate in the old newspapers or plastics masks making as well as making other items of recycled waste in the creative corner. Recycling maze was shown during the occasion with festival visitors bringing and exchanging old books in the books exchange corner.

Read more...
<< Start < Prev 1 2 3 4 5 6

7

8 9 10 Next > End >>


Page 7 of 15