News
WORLD ENVIRONMENT DAY MARKED BY KIDS RECYCLING EDUCATION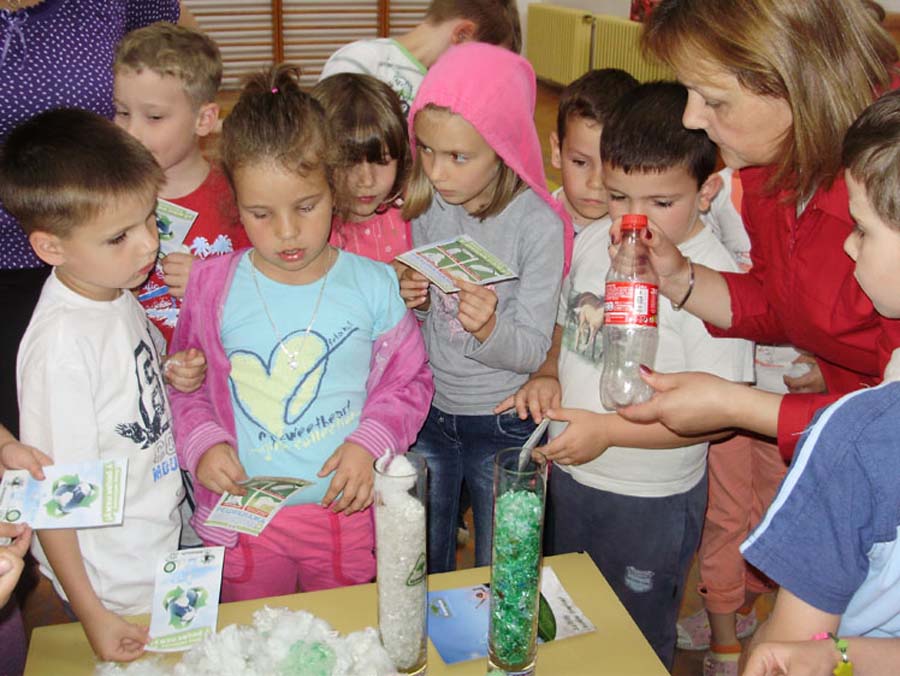 How the World Environment Day is supposed to be celebrated - is mom required to make cookies or are we required to clean up the back yard? Who's making an onslaught on the environment and how to defend it? Why not to throw a banana peel on the pavement? Where are the post-consumer plastic bottles going? What is recycling and what is it good for? What are the stuffed animals filled with?
Kids from "Dunavski cvet" kindergarten in Novi Sad were able to hear the answers to above and many other questions during the lecture organized by Greentech, commemorating the World Environment Day on June 5. With the sounds of the piano and that of "The bumblebee swore by the flower and the honey to put the meadow in order" song, some 40 children began their socializing with their Greentech friends, Kristina and Zelenka plush cow.
Read more...
EUROPEAN BANK FOR RECONSTRUCTION AND DEVELOPMENT (EBRD) BECAME GREEN GROUP CO-OWNER WITH 25% STAKE
On April 25, 2012, European Bank for Reconstruction & Development (EBRD) became Green Group co-owner, acquiring 25% stake. Decision is the confirmation of Green Group's leading role in the Southeastern Europe's recycling industry, with EBRD recognizing the success and dedication of a team of professionals setting standards in the recycling industry in the region since 2002.

Green Group is engaged into collecting and recycling plastics, electric and electronic waste, fluorescent lamps and batteries strictly adhering to the stringent European Union standards. Green Group's members are the following recycling companies operating in Romania, Serbia and Macedonia: Greentech, GreenFiber, GreenWEEE and GreenLamp.

By becoming a stakeholder EBRD marked the new chapter in the Green Group's operations, enabling new investment cycle within the Group's regional production facilities.
GREENTECH ON THE FIRST SERBIAN TELEVISION
Plastics recycling and Greentech Ltd. Novi Sad are going to be featured  in the Recycle Bean Eco guerrilla series, premiered during Saturday, May 26 evening between 23:15 and 24:00. The 13 themed episodes of Recycle Bean Eco guerrilla series, dedicated to young people in Serbia, are featuring practical examples applied by different companies operating in Serbia in order to encourage viewers to rethink their own impact on their living environment.

Series' guests are going to include experts and companies operating in the field of recycling and ecology presenting their adopted environmental protection procedures, collection and separation of recyclable materials. The series is going to discuss the importance of renewable energy, sustainable development, as well as the specific advices to citizens on subject of their personal contribution being key factor in further environmental pollution prevention.
Read more...
NEW JOBS CREATED BY POST-CONSUMER PET PACKAGING RECYCLING
Greentech Ltd. Novi Sad participated in the 8th Regional "Environment towards Europe" Conference dedicated to Green Economy, held in Belgrade on May 22-23, and organized by the Ministry of Natural Resources, Mining and Spatial Planning of Republic of Serbia, Environmental Ambassadors and Serbian Chamber of Commerce. The event was executed as a part of Serbian Rio+20 delegation preparation, with Rio+20 being the United Nations summit to be held in June in Rio de Janeiro, Brasil, considered the world's most important heads of governments gathering in the history of mankind.
Read more...
GREENTECH RECEIVED "GREEN LEAF" REWARD
Vojvodina Nature Conservation Movement and Radio Belgrade awarded the 2011 "Green Leaf" reward to Greentech Ltd. Novi Sad for successful contribution to post-consumer PET packaging recycling, individual collectors' incitement to legalize their operations, investment in collecting infrastructure and educating citizens regarding the recycling importance through various actions. "Green Leaf" is traditionally rewarded in the field of environmental protection since 1983. Alongside 10 "Green" there is a single "Black Leaf", rewarded to pollutant of the year.

Seeking the biggest polluter and the biggest environmental protector is a year long acitivity, with final event and "Green" and "Black Leaf" awarding ceremony being held once a year in town of Sremski Karlovci as a clean ecological environment, rich in both natural and heritage.

Read more...
<< Start < Prev 1 2 3 4 5 6 7 8

9

10 Next > End >>


Page 9 of 15