News
CONSTRUCTION COMMENCEMENT FOR THE FIRST RPET PELLETS PRODUCTION FACILITY IN SERBIA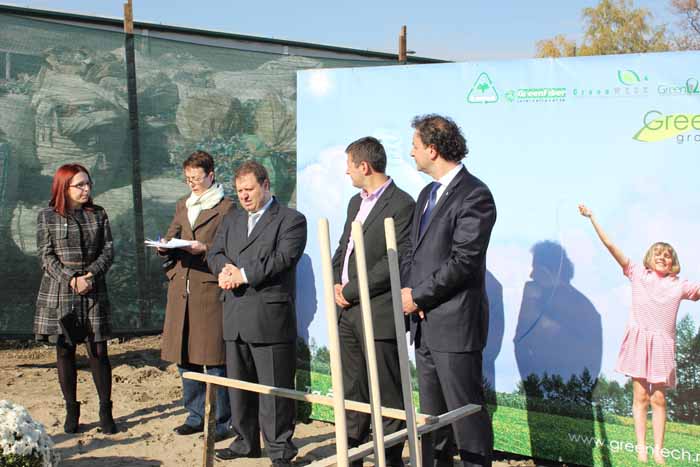 The foundation stone for the first facility in Serbia to produce RPET pellets (PET re-granulate – new PET bottle production raw material) by the means of recycling post-consumer PET bottles, was laid on Friday, November 9, 2012, in Mladenovo near Backa Palanka.

Green Group is going to materialize EUR 5mn investment in the new Greentech facilities in Mladenovo (Backa Palanka municipality) during the first half of 2013. Planned investment includes construction of waste water treatment facility, new production facility, hot PET bottle washing line installation and the first Serbian "bottle to bottle" facility (per Vacurema technology). Facility will enable recycling waste PET bottles into the final product - RPET pellets.
Read more...
GREENTECH ANNOUNCES NEW INVESTMENT AT ENVIRONMENTAL PROTECTION AND NATURAL RESOURCES FAIR - ECOFAIR 2012

GREENTECH announced new investment in the Vacurema based "bottle to bottle" post-consumer PET packaging recycling facility at Environmental Protection and Natural Resources Fair – ECOFAIR in Belgrade, Serbia.

GREENTECH Novi Sad participated for the fifth time at the traditionally mid-October held ECOFAIR at the Belgrade Fair. GREENTECH made the most of its presence at Serbia's most prestigious environmental protection Fair events for bilateral meetings with business partners as well as for promoting new investment. Construction of brand new production facility housing Vacurema based "bottle to bottle" technology for post-consumer PET packaging recycling is set for the first half of the 2013.

Read more...
GREENTECH RECEIVES MLADENOVO DEVELOPMENT CONTRIBUTION AWARD
Mladenovo local community awarded Greentech Ltd, plastics recycling company, with the Ilinden award rewarding their general development contribution, with Greentech production facility being based in Mladenovo settlement.
Ilinden award granting ceremony is part of Mladenovo "Colonization Days" traditionally held during first half of August.
Read more...
GREENTECH IN THE NATIONAL RIO+20 STUDY
UN Secretary-General Ban Ki-moon opened United Nations Conference on Sustainable Development (or "Rio+20") in Rio de Janeiro earlier today, bringing together 86 heads of states and governments, as well as a number of ministers. The goal of the three-day Summit, characterized by many as the most important in the history of mankind, is to find ways to preserve the planet and improve the lives of its inhabitants, with special emphasis being put on the poorest of them.
Serbian delegation is led by President Tomislav Nikolic, with Ministers of Environmental Protection and Foreign Affairs – Mr. Oliver Dulić and Mr. Vuk Jeremic. The Serbian youth delegation is represented by Jovana Dodoš and Danilo Arsenijević.
Read more...
GREENTECH AT THE RECYCLING FAIR
Greentech has participated in the "Recycle-Fair" ("Reciklovašar") event on June 7 (during the week of World Environment Day) in Novi Sad's "Maslacak" kindergarten. "Maslacak" kindergarten is the first eco-preschool in Novi Sad, labeled so some 20 years ago when the kindergarten employees and parents of children rebelled against the "Cikonizacija" (deratization, disinsectization, disinfection) building construction on the lawn in front of the kindergarten premises. "Maslacak" cherishes its "green" spirit until today's date, with recycling being the main topic in kindergarten's curriculum during last year.
Children and their teachers made number of practical items and art works from old newspapers, cardboards, plastic bottles, bags and many other post-consumer materials, with recycling dedicated manifestation being the final day's event during which children presented their handicrafts. Number of Recycling Fair visitors, especially parents, had the opportunity to purchase numerous handicrafts made by children from "Maslačak" kindergarten at token prices. This way children are taught at a tender age that waste has its economic value and that it should be treated responsibly. "Maslačak" kindergarten Children prepared a short event for kindergarten guests, with the actual costumes for the occasion made ​​from plastic bags and waste paper.
Read more...
<< Start < Prev 1 2 3 4 5 6 7

8

9 10 Next > End >>


Page 8 of 15