News
GREENTECH RECEIVES OCTOBER AWARD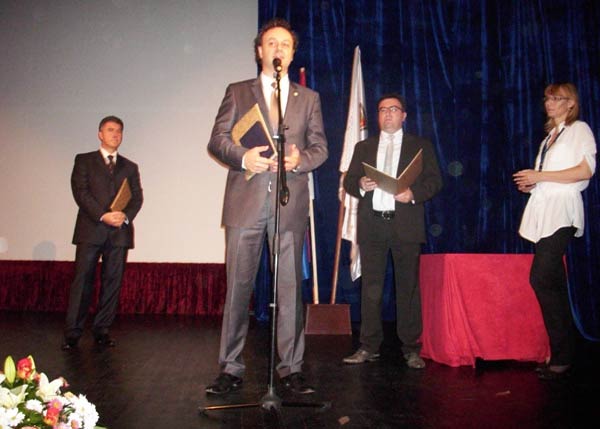 Greentech Ltd, plastics recycling company is this year's traditional October Award winner of the Backa Palanka municipality, recognition to its Backa Palanka municipality economy improvement contribution, environment protection and exquisite business results achieved in PET packaging recycling.
October Award is the leading Backa Palanka municipality recognition awarding prominent individuals, businesses, community organizations and sport associations from the municipality territory. Backa Palanka municipality October Award is established in 1966, and has been traditionally awarded annually on each October 20, marking the World War II Backa Palanka liberation day.
Read more...
GREENTECH BACKED SODROS CLEANING CAMPAIGN HELPS DUSAN TRAVICA TRAFFIC INJURY TREATMENT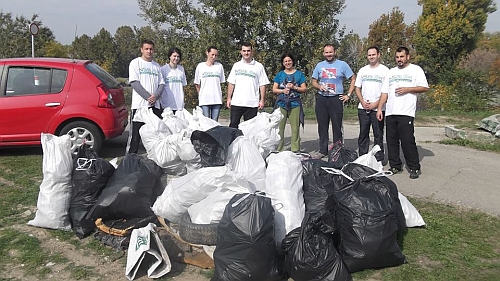 Environmental campaign, humanitarian in essence, with some fifteen citizens of Novi Sad participating in cleaning garbage on the river Danube banks at Sodros was organized on Sunday, October 13. Dozens of bags of waste were collected with waste PET bottles being collected separately and submitted to Greentech recycling facility.

The
amount
raised during the occasion was paid to the bank account of student Dusan Travica in order to help treat his injuries sustained in a car accident in the United States.
Citizens and the Greentech Ltd. recycling company have participated in humanitarian campaign to help Dusan Travica who was badly injured a week ago in car accident, leaving Vladan Jovanovic killed, and Goran Šišarica sustaining only minor injuries.

Read more...
GREENTECH @ RUSANDA SPA ECO-TOURISM FESTIVAL

The very first Bird Study and Protection Society of Serbia organized Eco-tourism Festival was held in Rusanda Spa on October 6. The Festival programme included eco-tourism related lectures, video footages, photo exhibitions as well as presentations of active natural conservation based organizations.
Being a region of outstanding natural features, with still no formal legal protection, Rusanda Spa has established itself as an ideal venue for staging the present event. In addition to being an active spa resort, the site is one of the European few preserved salt marsh areas, and as such holds a great variety of distinctive plant and animal species. The steps were therefore taken, at the festival organizers' initiative, to ensure the natural resort isprotected by law, with promises of one of the festival's introductory speaker (Mr. Slobodan PUZOVIĆ, PhD, Provincial Secretary for Urban Planning, Construction and Environmental Protection) that it would happen in the near future, i.e. that Rusanda Spa would be declared a natural park.

Read more...
RECYCLING AT THE FUTSAL TOURNAMENT

Children futsal tournament, organized by the Young Leaders Association and the Football Association of Serbia, was staged during the weekend (September 21/22) in Backa Palanka. Futsal pitch for the occasion was constructed in the close proximity to the Municipality building in the Backa Palanka downtown. Greentech Ltd Novi Sad, at the organizer's request, provided PET bottles depositing containers as well as promotional booth, informing the youngest futsal players regarding the recycling importance for the environmental protection, and providing financial backing for the realization of this interesting sport event.

Read more...
EXIT YOUR WASTE – Recycling Promotion @ EXIT Music Festival

Greentech Ltd Novi Sad and Recan Foundation representatives were invited by the EXIT Music Festival organizers to participate at the two day GO GROUP (Green Operations Europe) conference, with Europe's largest music festival organizers presenting their experiences, sustainable development opportunities, as well as environmentally sanctified approach of the creative industries' important segment.

The most impressive presentation was certainly made by the world's largest festival representatives, Glastonbury Festival, taking place in a field a couple of miles from the nearest settlement, the area being an actual cattle farm over the rest of the year. Glastonbury festival founders are therefore dedicated to preserving the environment applying various green solutions in order to prevent staging area's ecosystem disturbance. This means that the solar panels are responsible for the festival power requirements, waste is being collected/recycled, with the festival toilets content used for soil fertilization. The festival has own green police service (cheerful and likeable, naturally), organic food market, as well as several environmental campaigns – with the most notable being "Love Your Farm, Leave No Trace". Glastonbury Festival is certainly one of the Greenpeace movement largest individual donors.
Read more...
<< Start < Prev 1 2 3

4

5 6 7 8 9 10 Next > End >>


Page 4 of 15